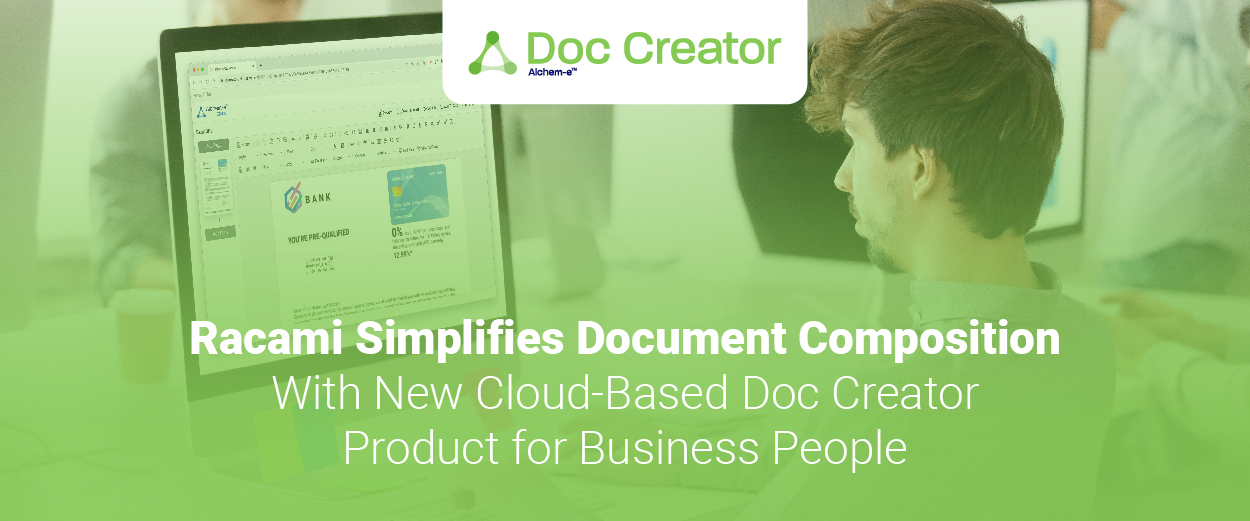 Racami

Simplifies Document Composition With New Cloud-Based Doc Creator Product for Businesspeople
Atlanta, GA—October 20th, 2023. Racami, a leading software and IT services provider dedicated to revolutionizing customer communications and production processes, is proud to announce the launch of its innovative Alchem-e™ Doc Creator at PRINTING UNITED 2023. This groundbreaking easy-to-use composition software is set to transform the landscape for both print service providers and corporate marketing teams. 
With a steadfast commitment to making document composition faster, easier, and more effective, Racami's latest offering, Alchem-e™ Doc Creator, takes a giant leap forward in achieving these objectives. 
Print service providers and corporate marketing and communications teams have both faced the challenge of granting customers or teams control over content and document design without the complexities of the composition tools commonly used by highly trained IT staff. Alchem-e™ Doc Creator provides the solution they've been seeking. This software empowers users with an intuitive platform to manage their entire content creation lifecycle independently. 
Customers or teams can seamlessly design documents, manage content, control branding, and submit approved versions through an online portal or by integrating Alchem-e™ Doc Creator into their existing websites. The software efficiently ingests data from diverse sources, enabling personalization and dynamic document generation. 
"The task of designing message templates and customer communications is shifting within organizations. It can be more productive for the product managers, marketers, and other departments to be in control of the content compared to having IT setting up the templates and workflows. Our Alchem-e™ Doc Creator allows corporations to enforce brand standards while giving flexibility to business users to manipulate message content, create customer journeys and otherwise control the interaction with their customers. There are so many business applications for this type of online message management technology."  States Matt Mahoney, Racami's EVP of Sales and Marketing. 
Alchem-e™ Doc Creator streamlines the document generation process, automating composition and delivery workflows. It offers multiple output options, including printing, PDF generation, email delivery, and seamless integration with other systems. 
Learn more about Alchem-e™ Doc Creator at: https://alchem-e.ai/doc-creator/  
About Racami 
Racami is a rapidly growing software and IT services company dedicated to enhancing customer communication, improving production processes, and supporting digital payments across various industries. With a focus on making customer communication faster, easier, and more effective, Racami provides cutting-edge solutions to meet the evolving needs of businesses worldwide. 
###