Press Releases and Updates
Racami to Sponsor the 2020 thINK Virtual Forum
Atlanta, Georgia— Racami, the multichannel customer communications, IT services and staffing company announced today their Gold Sponsorship of the upcoming thINK Ahead Forum that will take place online on September 2nd. This one-of-a-kind Canon Solutions America independent forum will feature a realistic and immersive trade show floor, inspiring keynotes, hands-on workshops, networking opportunities, business recovery sessions and a dynamic online experience for the attendees and sponsors.
The purpose of the event is to provide the audience with a digitalized version of the same show they look forward to attending every year. The graphics and online experience match the look and feel of the iconic Waldorf Astoria Boca Raton Resort & Club, where Canon normally hosts the live event. "thINK is the ideal conference to showcase our products and services. Its growing community of highly engaged inkjet printing decision makers coupled with the excellent networking and educational experiences make it an exceptional and unmissable event" affirms Matt Mahoney, Racami's EVP of Sales & Marketing.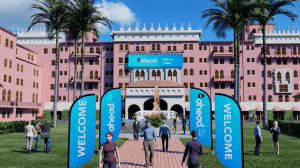 About Racami—Racami LLC is a fast-growing and innovative multi-national software and IT services company that improves the performance of customer communication processes and advances multi-channel initiatives. Racami is revolutionizing the way customer communications are produced and distributed using its flagship customer communications management (CCM) platform Alchem-e™. In addition to their software, Racami provides industry specialized professional services and software development for insurance, financial, healthcare, book publishing, and marketing companies.
For more information, please visit www.racami.com or email us at sales@racami.com