How to Master Proofing Software for Creative & Production Review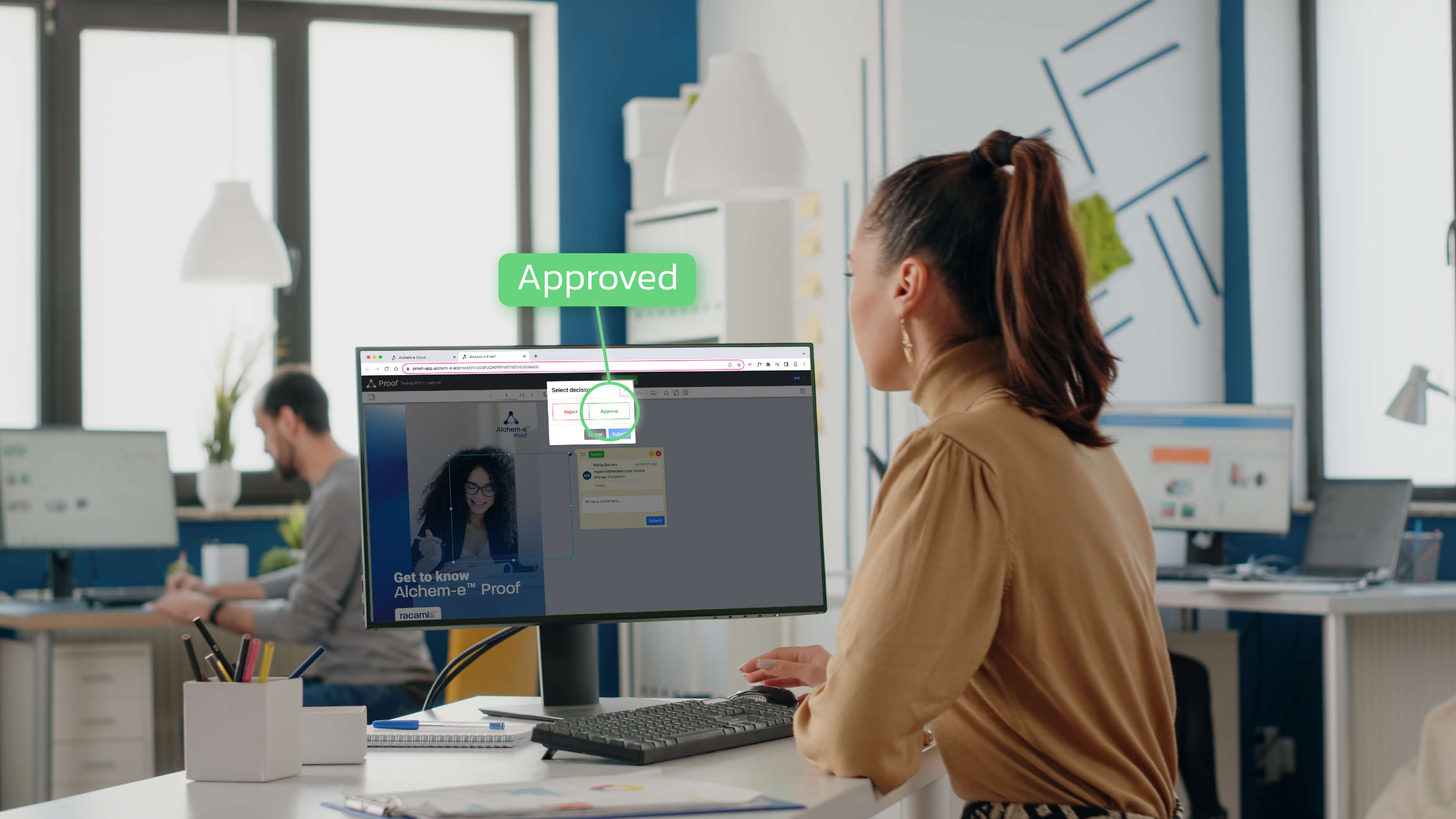 The review and approval process is a critical and time-consuming stage in the creation of content for marketing campaigns and in the complex production of print communications for consumers. Both use cases share the need for accurate content proofing in order to get work approved by all involved stakeholders and deliver high-quality results. However, each use case is unique and requires different tools, requirements, and workflow approaches to ensure its success.  
From graphic designers to product managers and print production professionals, proofing has become a *dreaded* stage characterized by endless back-and-forth emails, misunderstood feedback, wasted time, and the reason why suddenly you have 15 different versions of the same document on your computer. This inefficient process can lead to delays, errors, and frustration for all parties involved. 
Fortunately, creative and production proofing software has been developed to streamline the review and approval process. 
In this blog, we'll review both the creative and production proofing process in detail and we'll explore how to eliminate the confusion and get content approved as easily and rapidly as humanely possible. 
What we'll cover:  
What is Online Proofing?

 

Creative Design Approval Process

 

Production-Focused Review and Approval

 

How Does Proofing Software Differ from Productivity Software?

 
1. What is Online Proofing? 
Online proofing is the process of getting content approved by all stakeholders before being sent for publication or printing. 
The goal is to accelerate the review and approval process and ensure the proper delivery of ready-to-be-published high-quality marketing assets. 
The review and approval process guarantees the quality and accuracy of the content piece and records the approval agreement of all responsible parties before the asset is sent forward within the process. 
2. Creative Design Approval Process 
The creative design and approval process is characterized by the collaborative effort to review marketing collateral for the purpose of publication. Product managers, marketers, and designers need to give feedback and approve various marketing assets on a daily basis for social media campaigns, advertisements, and direct mail.  
One of the biggest pain points of content publication is the proofing process. Traditional ad-hoc proofing methods such as printouts, email threads, and hallway conversations are inefficient and lead to delays, misunderstandings, mistakes, and money wasted. The best way to solve this is to unite all reviewers under one single roof and centralize all feedback, markups, and annotations so stakeholders get to review and approve the content before it is officially declared as the final version. 
The Alchem-e™ Proof review and approval software provides real-time creative proofing to marketing teams and content creators that handle continued brand-related tasks such as branding, product launches, and marketing collateral. By using Proof, creators and reviewers can speed up the proofing process, reduce mistakes, and publish their best work more frequently! 
3. Production-Focused Review and Approval 
Production proofing of high-volume marketing and transactional communications is a critical and often stressful process for print production professionals. This time-consuming stage involves internal and external reviewers scrutinizing variable data documents for days before agreeing on the quality of the job. Unfortunately, this process is decentralized and prone to errors. 
The production proofing workflow consists of two different proofing stages. The first stage is creative proofing, which ensures that the design meets the necessary requirements and contains all the correct information to be used as the template for the job. 
The second stage of proofing in the print industry is marked by the requirement for security and compliance. The primary objective in production proofing is to examine critical content at scale. Alchem-e™ Proof's production proofing functionalities were explicitly developed to verify file compliance with regulatory standards as they progress through the review process. This guarantees file accuracy before they are sent to print. 
One of the most important capabilities in production proofing is the ability to view personalized pieces within variable data print jobs at an individual level. This allows reviewers to check the document's accuracy, make edits, or remove individual pieces prior to sending them to the printers. In addition, all Proof users have access to a general audit trail of project or file activities. This enables everyone responsible for the proofing process to check all file versions created, all changes requested by team members, and auto-compare text-heavy documents with character-to-character and pixel-to-pixel precision. 
On top of that, Alchem-e™ Proof streamlines content feedback and tracks activity history. Reviewers can review all requested changes and analyze all document improvements made since the start of the proofing stage. Proof stores previous versions of the job, which can be accessed at any time. Once all reviewers have approved the content, the proof version is locked, allowing creators to sit back and let the job move forward to the print production phase.
From file creation to print, Alchem-e™ Proof's feedback, security, activity trail, and auto-compare features improve efficiency throughout the entire review and approval workflow. 
4. How Does Proofing Software Differ from Productivity Software? 
You may now have a better understanding of Alchem-e™ Proof's review and approval software, but you might still find it oddly similar to your go-to productivity software, such as Notion or Asana. This is due to the real-time notification and collaboration capabilities that are shared between them. 
However, Alchem-e™ Proof is specifically designed as a content-proofing and asset management system. Its sole purpose is to get marketing assets and variable data print jobs approved in a timely manner, with version control and the involvement of all stakeholders' feedback in order to move forward with the next step in the workflow: to publish or mail the brand content. 
 The Alchem-e™ Proof centralized proofing system will save you time, money, and misunderstandings with your teams and clients. Save yourself the hassle and discover the simplicity of proofing with Alchem-e™ Proof. Try it for free for 30 days.